News and Resources from the Central Virginia SBA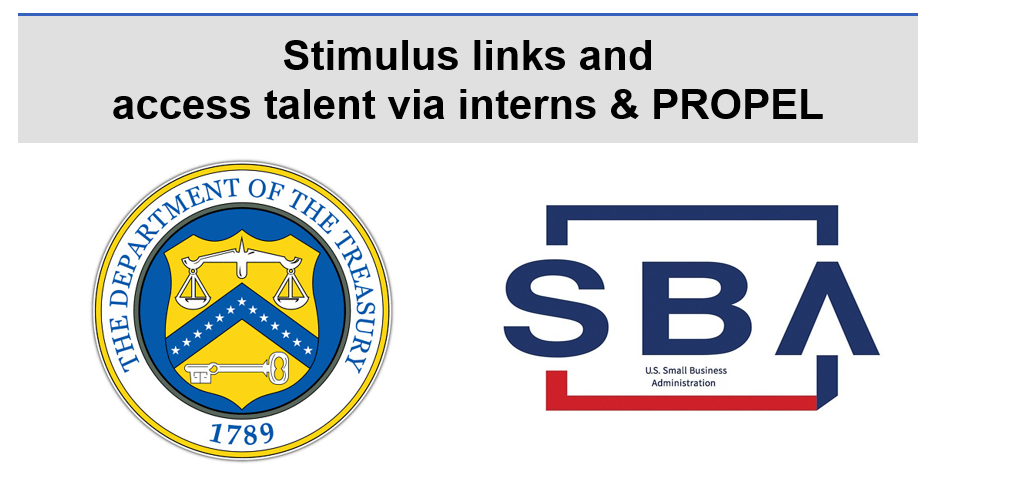 The Interim Final Rules were published last night. They can be accessed on the following official websites:
The CARES Act Provides Assistance to Small Businesses | U.S. Department of the Treasury
https://www.sba.gov/funding-programs/loans/coronavirus-relief-options/paycheck-protection-program
The attached "Guidance on Accessing Capital for Minority Underserved Veteran and Women Owned Business Concerns" was also published last night.
Microsoft Word - Guidance on Accessing Capital for Minority Underserved Veteran and Women Owned Business Concerns .docx (sba.gov)
The new legislation signed by the President on December 28th is from the Congress.gov website. The link to the legislation is below.
Text - H.R.133 - 116th Congress (2019-2020): Consolidated Appropriations Act, 2021 | Congress.gov | Library of Congress
We will continue to provide news as it becomes available. Please contact our office with any questions. If you've never met with us and would like a meeting or call with one of our business or technical advisors, please fill out this form to expedite a confidential meeting (always free of charge thanks to the SBA and community donors and sponsors).

CV SBDC and UVA Career Services are working together to make it easier for you to access talented students to help you with your business. We know first hand, UVA students can do much more than answer phones or "get coffee"! We are happy to provide some tools to make working with interns a great, smooth process to benefit your business. Contact us or click here to apply for interns now.

PROPEL Central Virginia puts student teams on business projects to find creative ideas and solutions. Student teams will be assigned in February so apply soon! Multiple, multi-student teams work together with mentors to propose solutions for your business. The program (over 2 weeks with no more than 5 hours required by the entrepreneur), culminates with a morning of capstone presentations from the student teams. If desired, the business can request 1-2 interns to help implement solutions after the program! All free of charge. Contact CV SBDC today for more information, to help define your project, or apply HERE. This program will occur again in Summer and Fall.