The Worker Shortage Crisis Continues. There was an All-Time Record of Job Openings in May.
The Worker Shortage Crisis Continues. There was an All-Time Record of Job Openings in May.
The Bureau of Labor Statistics (BLS) reports data on job openings. At the end of May there were just over 9.2 million job openings in the economy. This is 16,000 more than in April. The small increase is not too surprising since businesses added more than 760,000 and more than 900,000 openings in March and April respectively. They have not been able to fill them, so it makes sense they would not necessarily add more while struggling to fill their existing openings.
Why it matters: The 9.2 million openings in May is an all-time record, smashing the previous record (prior to the pandemic) by 2 million openings.
Details: Since March 2020, openings have been rising steadily, but they have really accelerated in 2021. In the first five months of the year businesses have added 2.5 million openings, an average of 500,000 per month.
While job openings have been rising, the number of unemployed workers has been falling to the point where there are now almost as many job openings as there are unemployed workers.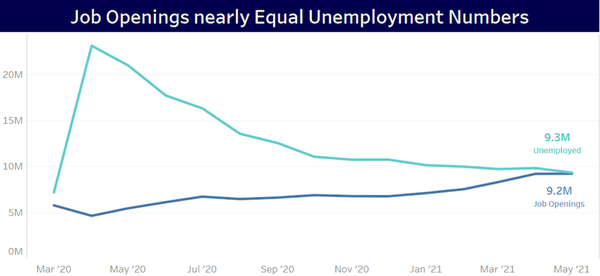 The Chamber calculates the ratio of available workers to job openings. Available workers includes those unemployed and those looking for work. The ratio was 1.2 in May, the same as in April. It is down considerably from its pandemic high of 5 in April 2020. Prior to the pandemic, the ratio was hovering around 1.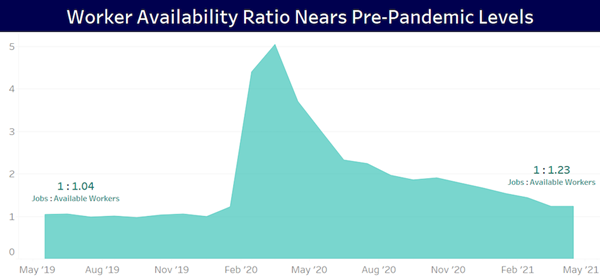 The situations, however, are very different. Pre-pandemic, there were roughly 7 million job openings and unemployed workers. The major issue was that available workers did not necessarily have the skills to fill those openings. At the time, it was going to be hard to lower the ratio because of that mismatch.
Now we have many more available workers, over 11.3 million compared to the 7 million pre-pandemic, and 2.2 million more openings. While some skills mismatches remain, the major problem is that the available workers are reluctant to go back to work, whether because of lingering COVID-19 concerns, childcare issues, or generous government benefits.
Bottom line: Lack of workers going back to available jobs continues to the be the biggest issue facing the economy, which is why the Chamber has launched the America Works Initiative.
—Curtis Dubay, Senior Economist, U.S. Chamber of Commerce