Celebrating World Diabetes Day
Tuesday, November 14, 2023 (11:00 AM - 2:00 PM) (EST)
Description
Sentara Martha Jefferson Hospital will be holding a Diabetes Alert Day on November 14th, from 11a-2p at Charlottesville Parks & Recreation Auditorium at the Carver Entrance.
We will have diabetes educators on site to provide education, Free A1C testing , Healthy snacks, and more. World Diabetes Day is a global awareness campaign that aims to raise awareness of the health and economic impact of diabetes. It is celebrated every year on November 14 across the world, which is the birthday of Frederick Banting, one of the discoverers of insulin.
World Diabetes Day was established in 1991 by the International Diabetes Federation and the World Health Organization and became an official UN day in 2006. We hope that you will be able to join us and share the information with everyone you encounter, as it is important to KNOW YOUR RISK, KNOW YOUR RESPONSE TO DIABETES!
We hope to see you on November 14th! To register, visit EVENTS | Martha Jefferson Hospital Foundation (mjhfoundation.org). For more information, contact Setour Dillard, RN, Integrated Care Manager at 434-984-4640 or smjh_community@sentara.com Did you Know? 1 in 10 adults worldwide have diabetes. Over 90% have type 2 diabetes. Close to half are not yet diagnosed. In many cases, type 2 diabetes and its complications can be delayed or prevented by adopting and maintaining healthy habits. Knowing your risk and what to do is important to support prevention, early diagnosis, and timely treatment.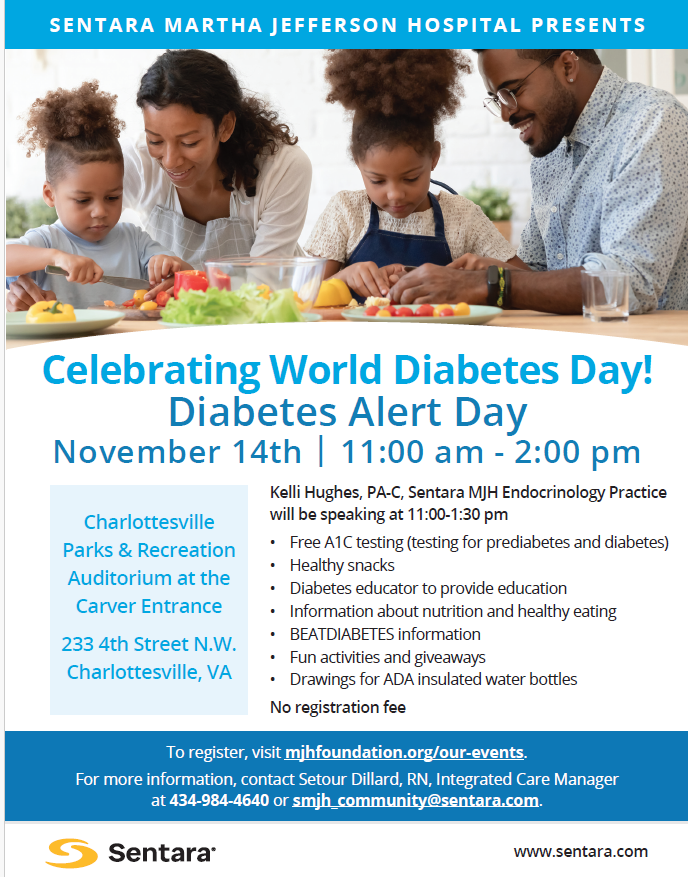 Charlottesville Parks & Recreation Auditorium

Tuesday, November 14, 2023 (11:00 AM - 2:00 PM) (EST)