Louisa Forward Foundation Release Consumer Market Analysis Survey
Louisa, Va. – The Louisa Forward Foundation, in partnership with the Town of Louisa and area leaders including business and property owners, announce Phase 1 of the Strategic Market Analysis implemented with consultant Dr. Matt Wagner through funding provided by the Walmart Foundation and the Department of the Housing and Community Development. Consumer input is requested through an online, 17-question, anonymous survey from residents, visitors, businesses and interested parties.
"We are thrilled to work with Dr. Wagner, the Chief Program Officer at the National Main Street Center (NMSC)," states Tracy Hale Clark, Executive Director, Louisa Forward Foundation. "He's worked with more than 50 communities across the U.S., 10 in Virginia, and has a long history of program and service delivery in the area of small business development and place management."
Phase 1 launched January 16 and will be completed mid-February. All community surveys will need to be completed online by January 31, 2023. The online survey can be accessed by going to LouisaForward.org, scanning a QR code at various businesses and attractions around Louisa as well as clicking this link https://nationalmainstreet.qualtrics.com/jfe/form/SV_1ZFyWp6K9EjSbGu which will also be available on these Facebook pages:
Louisa County Chamber of Commerce
Love Louisa
Town of Louisa
Phase 1 to the five-month process relies on local participation and data gathering by the NMSC. The steering committee, led by Steve Wilson, Spring Oak Living Center will need community involvement with the anonymous survey, asset map reviews and historical data and/or business asset information. The NMSC reviews community survey data, pulls trade area market data and assists with the asset map collection.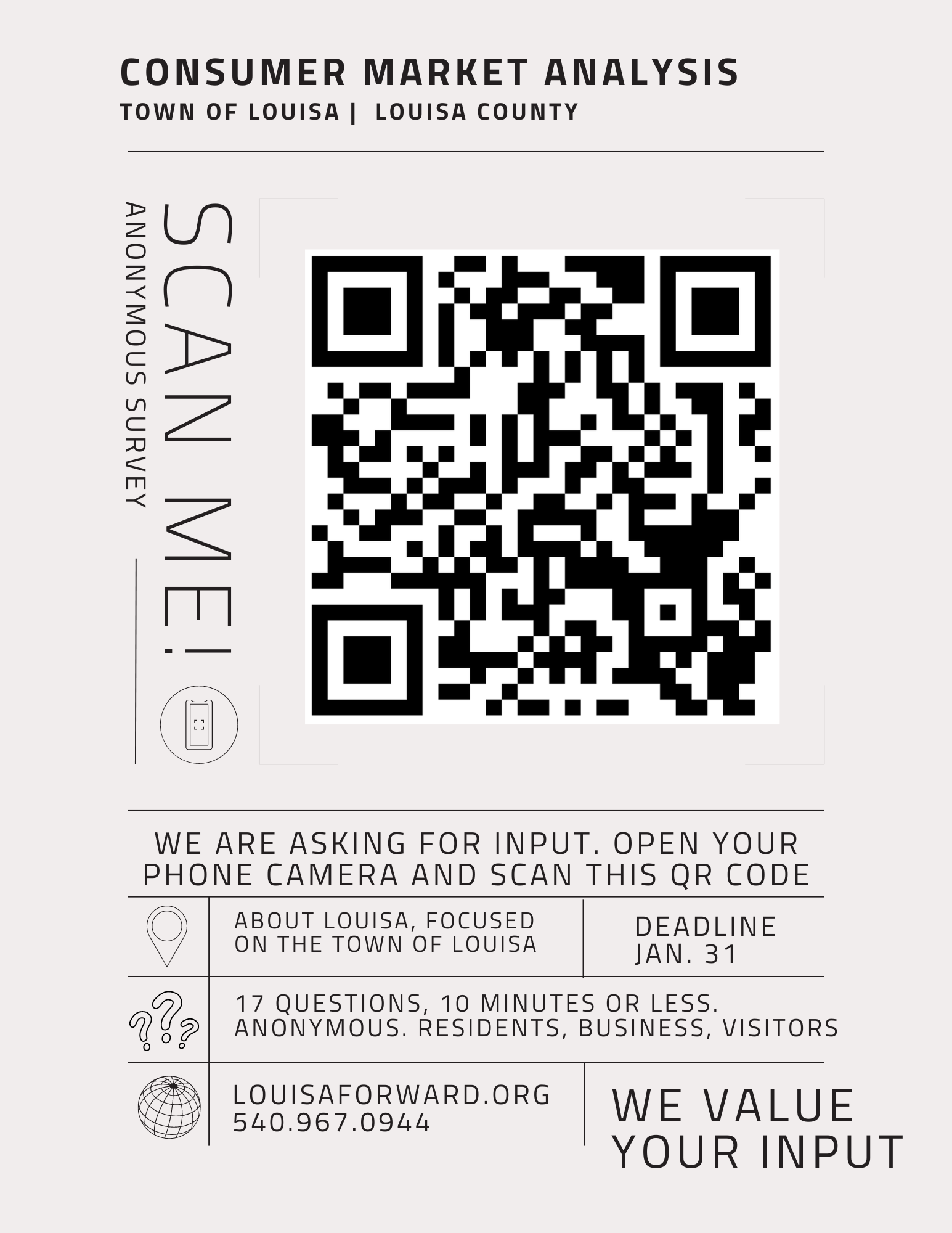 About Louisa Forward Foundation
The Louisa Forward Foundation, a 501(c)(3) tax-exempt nonprofit, was created to support the economic, education and community development programs implemented by the Louisa County Chamber of Commerce. The foundation focuses on business, workforce development, and community collaborations to enhance the quality of life.
###