Piedmont Virginia Community College Announces First Nicklous Pendleton Memorial Scholarship Awardees
Charlottesville, Va. – October 12, 2023 – Piedmont Virginia Community College (PVCC) is pleased to announce the first recipients of the Nicklous Pendleton Memorial Scholarship Fund - Morgan Gregory, Alysonne Harris and Katelynn Jones. The Fund is named for Pendleton, a 2021 graduate of Louisa County High School who later enrolled at PVCC where he was pursuing a degree in Business Administration.
All three scholarship recipients are 2023 graduates of Louisa County High School and are enrolled in associate degree programs at PVCC.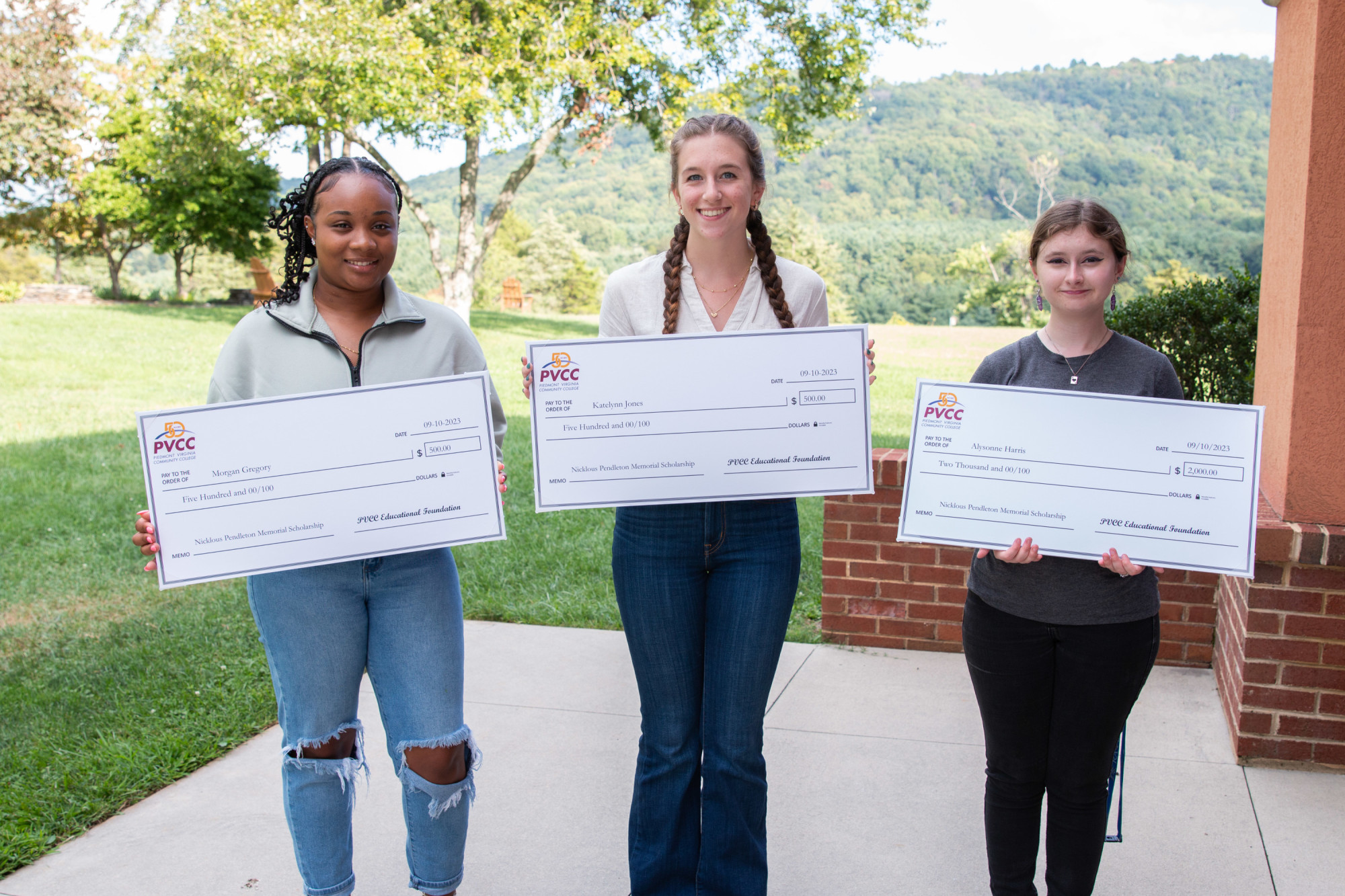 Morgan Gregory was awarded a $500 scholarship. She is pursuing an associate degree in education and plans to transfer to a four-year college. Gregory shared, "I am thrilled to be enrolled in PVCC. My goal is to obtain an associate degree as the first step to achieving an educational degree which allows me to teach and lead our future generation of young people. I want to make a difference in their lives and help them understand that their youth sets the foundation for their adult lives. My mindset is to give back and help everyone I can fill their potential."
Alysonne Harris was awarded a $2,000 scholarship. While in high school, she was dual enrolled in the Emergency Medical Technician Course at PVCC, and is now pursuing the Paramedic Bridge Program, working to earn her paramedic license. Harris plans to transfer to the University of Virginia or Virginia Commonwealth University and double major in biology and psychology once she graduates form PVCC. Her long-term goal is to pursue a career in the United States Navy as Corpsman, where she can utilize her combined education to benefit patients with physical, mental and emotional needs.
Katelynn Jones received a $500 scholarship. She shared, "I am grateful and incredibly honored to receive the Pendleton Scholarship. By reducing the financial impact on my education, this scholarship will allow me to focus more on my studies." Jones is completing her general education requirements at PVCC and will transfer to Virginia Polytechnic Institute, where she has been accepted into the Sports Media and Analytics major. Her goal is to work in the field of journalism in her dream career as a social media manager for an NFL team.
"We are deeply grateful to have the opportunity to partner with Nicklous Pendleton's family and friends to honor his legacy in such a meaningful way," stated PVCC Vice President for Institutional Advancement and Development Harry Stillerman. "This new scholarship will help PVCC realize our goal to be the college where every student succeeds. All three scholarship recipients have noted the incredible impact their scholarship award has in supporting their educational and career goals."
Visit pvcc.edu/donors-friends/pendleton-scholarship to learn more about the Nicklous Pendleton Memorial Scholarship Fund.
About Piedmont Virginia Community College
Established in 1972, Piedmont Virginia Community College is a nonresidential two-year institution of higher education that serves Central Virginia – principally, residents of the City of Charlottesville and the counties of Albemarle, Buckingham, Fluvanna, Greene, Louisa, and Nelson. PVCC is one of 23 community colleges in Virginia that comprise the Virginia Community College System. PVCC is committed to providing access to a college education for all who can benefit, an opportunity for each student to reach her/his potential and excellence in all programs and services. Visit pvcc.edu.
###