REC Doubles Work Force to Battle Storm-Related Outages
REC Doubles Work Force to Battle Storm-Related Outages
Fredericksburg, Va. - Rappahannock Electric Cooperative (REC) crews, contractors and mutual-aid workers have restored service to more than 30,000 member-owners who lost power in the historic Winter Storm Frida.
The storm dropped more than a foot of heavy wet snow across much of REC's service territory and brought wind gusts of 40 mph.
Several hundred mutual aid workers from across the country have now joined REC's work force to make major repairs and restore service to the roughly 60,000 members who remain without power. Additional support has been requested, and REC expects hundreds more mutual aid workers to arrive between now and the weekend. Some are traveling a great distance, creating challenges and delays for their arrival.
In total, more than 1,000 REC and mutual-aid employees are now working on outage restoration efforts.
Field workers have discovered around 70 broken poles and expect to find significantly more as they are able to reach additional damage sites. They continue to be challenged by snow- and ice-covered roads and downed trees that are blocking the roadways. REC is tracking nearly 1,300 individual outage events.
REC still expects to restore the majority of outages by the end of the weekend, with scattered outages continuing into next week.
"What we are calling our Mutual Aid Army has joined with REC's team in the field to make repairs caused by the storm's devastating damage," said Casey Hollins, Managing Director – Communications and Public Relations. "Crews and contractors from at least seven different states are arriving to ensure we restore power as quickly and safely as possible."
Member-owners can track crew work locations on REC's social media channels and online at myrec.coop, where they also can find information on warming shelters available in several counties.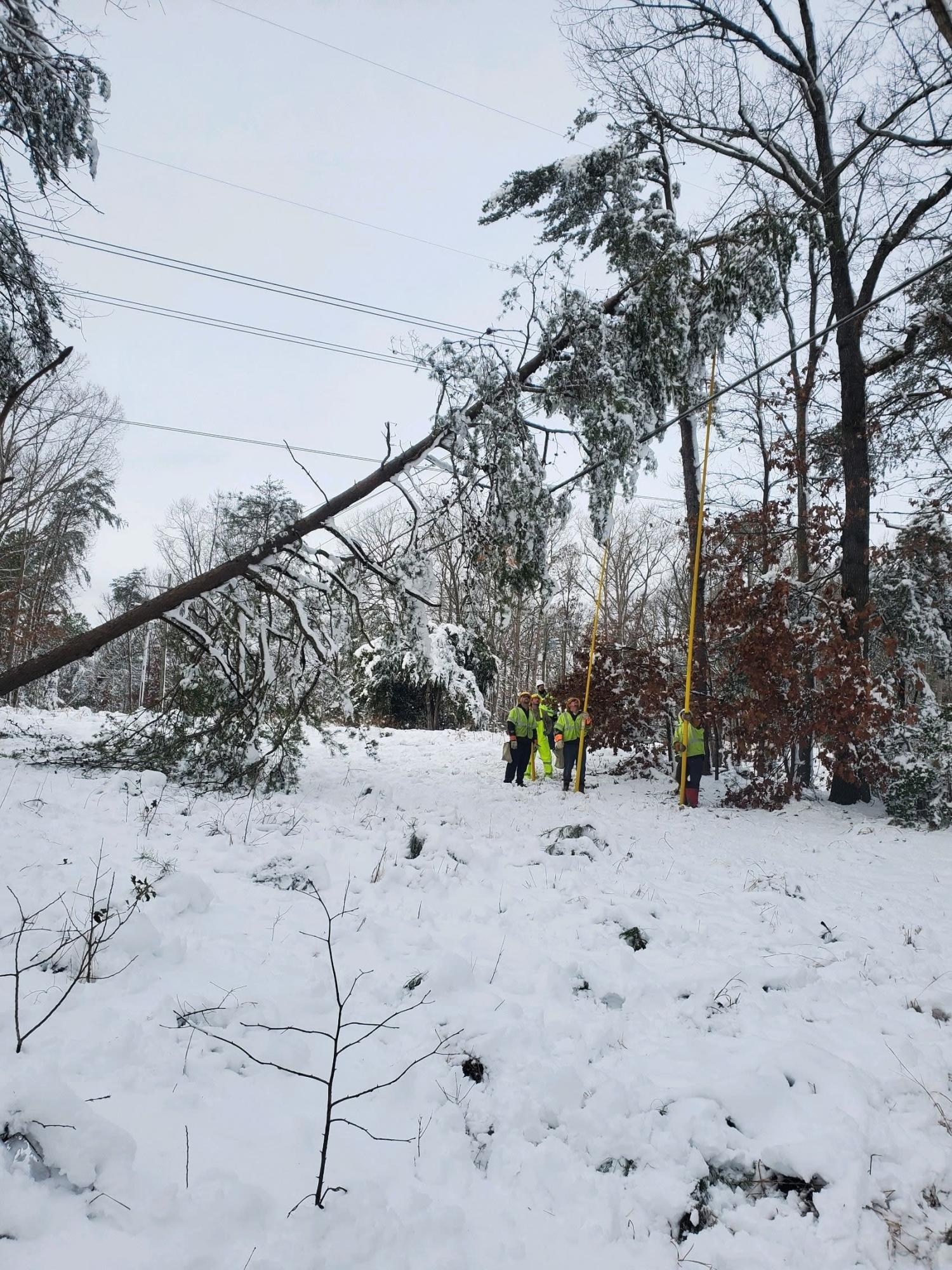 REC provides electric service to over 170,000 connections in parts of 22 Virginia counties. With its general office in Fredericksburg, Va., the Cooperative operates and maintains more than 17,000 miles of power lines through its service area, which ranges from the Blue Ridge Mountains to the tidal waters of the Chesapeake Bay. For more information about REC, please visit www.myrec.coop. Follow REC on Facebook, Twitter, Instagram, and YouTube.