Tetra Pak Awards Additional Donations to COVID-19 Relief Efforts in Select US Cities
DENTON, Texas (August 21, 2020) – As part of Tetra Laval Group's global commitment to donate €10 million to COVID-19 relief efforts around the world, one of their U.S. organizations, Tetra Pak, has given $275,000 to charitable organizations local to their sites across the U.S. This donation is in addition to the $375,000 previously given to national organizations in the fight against COVID-19.
Tetra Pak's US employees were given the opportunity to nominate organizations fighting the effects of COVID-19 through food or healthcare efforts on the front lines within their local areas. In this way, dollars will more directly benefit the communities of Tetra Pak employees and their families and friends in need. After vetting nominations to ensure donation requirements were met, 17 organizations across 8 U.S. cities with Tetra Pak facilities received a portion of these funds.
In Louisa, VA., the Louisa County Resource Center (LCRC) was the beneficiary of Tetra Pak's local donations. The LCRC works to provide food to those in need and has seen a marked increase in demand since the arrival of COVID-19. The local Tetra Pak site, Tetra Pak Tubex, employs approximately 45 people, including General Manager Ben Lahr.
"I am both honored and pleased to be part of Tetra Pak's efforts to support our community during this time," said Lahr. "In coordination with Tetra Pak's COVID-19 relief donations, the Louisa site had the privilege of nominating the Louisa County Resource Council to receive a portion of the available funds set aside to assist in this endeavor.
Today, we are thrilled to announce the nomination has been accepted. The LCRC's mission and goals align to Tetra Pak's vision to "make food safe and available everywhere. We are excited to support their frontline efforts, supplying food to those in need in our community."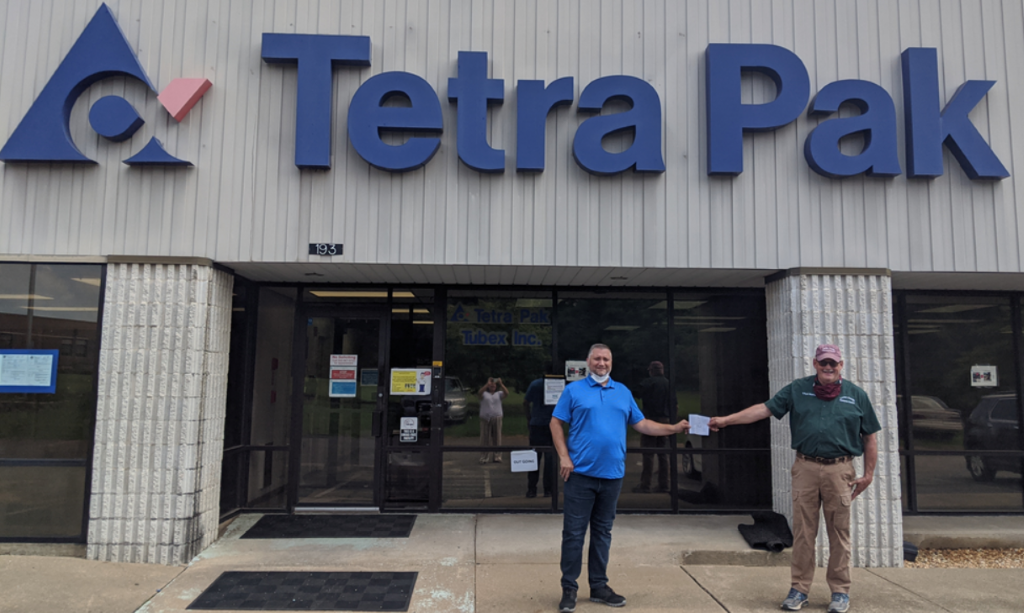 General Manager Ben Lahr of Tetra Pak (left) and Lloyd Runnett, executive director of the Louisa County Resource Center.
ABOUT TETRA PAK
Tetra Pak is a world's leading food processing and packaging solutions company. Working closely with our customers and suppliers, we provide safe, innovative, and environmentally sound products that each day meet the needs of hundreds of millions of people in more than 160 countries. With more than 25,000 employees around the world, we believe in responsible industry leadership and a sustainable approach to business. 
Our promise, "PROTECTS WHAT'S GOOD™," reflects our vision to make food safe and available, everywhere.
More information about Tetra Pak is available at www.tetrapakusa.com and on LinkedIn, Instagram, Facebook and Twitter.
Media Contact : Larine Urbina larine.urbina@tetrapak.com